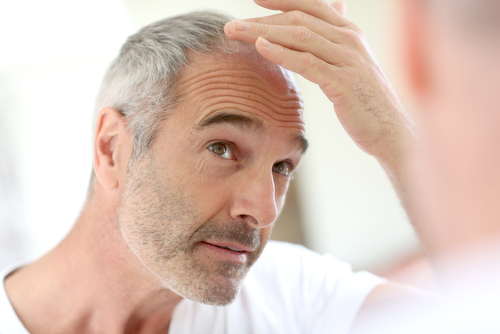 Having a full head of hair is something many people often take for granted, that is until they begin to experience hair loss. Aside from protecting your scalp and influencing your physical appearance, hair also has a significant effect on your self-esteem. With more than 35 million men and 20 million women experiencing hair loss every year, the desperation to find a solution is very high.
What Causes Hair Loss?
It's a commonly believed that hair loss is caused by things like poor blood circulation, hat wearing, and frequent washing. However, these assertions are simply not true. In fact, various studies have revealed that hereditary factors in men and hormonal factors in women are most responsible for hair loss. Other factors that contribute to hair loss in both men and women include diet, thyroid disorders, and cancer treatment.
Restoring Hair Loss
If you've already been suffering from hair loss for an extended period of time, chances are you tried creams, lotions and every other product under the sun to generate hair growth. And while many of these products came with "promises" and "guarantees," you likely saw little, if any, improvement. Fortunately, cosmetic surgery has made many advancements in the area of hair restoration.
At his El Paso and Las Cruces practices, Dr. Frank Agullo, has helped countless men and women restore hair to their scalp by utilizing state-of-the-art surgical techniques. The method of hair restoration used will be determined after your consultation with Dr. Agullo, during which time he will examine the extent of your condition and discuss your preferences.
Non-Surgical Treatment for Hair Loss
Medication
Oral and topical medications offer a non-surgical treatment option for hair loss. Propecia (finasteride) is an oral medication FDA approved for hair loss in men that works by inhibiting DHT, which is a key factor in hair loss. Rogaine (minoxidil) is a topical medication that treats hair loss by directly stimulating hair growth. Formula 82M is a formulation that contains extra strength minoxidil, steroid, and retinoid, allowing for more drug absorption and improved results. These drugs are often used in combination with each other for the most effective results.
PRP (Protein Rich Plasma) Treatment
The application of Protein Rich Plasma (PRP) treatment involves enriching blood plasma with platelets, which are activated to release multiple growth factors and cytokines that promote healing. This process has been shown to wake up dormant hair follicles in hair loss patients, which results in both hair growth and cessation of hair loss.
To perform this technique, plasma is extracted from blood that is drawn from the patient's arm. The blood is then processed to obtain the PRP, which is then injected into the area of hair loss and activated. PRP treatment should be repeated every 4 to 6 months to gain the most optimal results.
Hair Transplant
Follicular Unit Transplantation (FUT)
Follicular Unit Transplantation (FUT) is performed by removing strips (grafts) of hair from a donor site on the scalp. These grafts are then dissected into smaller "follicular units" of one to four hairs, which are then surgically implanted one by one into the balding area.
Follicular Unit Extraction (FUE)
Unlike the FUT technique that utilizes strips of hair from the scalp, Follicular Unit Extraction (FUE) involves taking single units of hair and implanting them in the bald areas of the scalp. FUE is a minimally invasive and scarless technique. The procedure can be performed with different instruments, including AlphaGraft, NeoGraft, or other automatic punches. Results are similar regardless of the instrument used.
Both FUT and FUE hair transplant techniques produce satisfying results.
If your hair loss is affecting your physical or emotional way of life, we encourage you to contact Southwest Plastic Surgery today. Our surgeon, Dr. Frank Agullo, is certified by the American Board of Plastic Surgery and specializes in hair transplantation. His close attention to detail and expertise in hair restoration enable him to help you get an appearance you can feel confident about. To schedule your consultation with Dr. Agullo, please call (915) 590-7900 or fill out our online consultation form today.