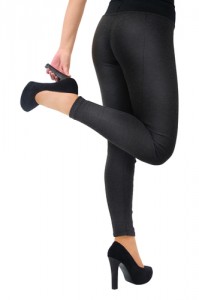 Those who are self-conscious about the small size or flat appearance of their backside have probably heard all the tricks to making their butt appear bigger:
1. Wear jeans with large pockets
2. Wear high heels
3. Perform squats and lunges every day
Although these are all great methods, they come with setbacks. Shopping for jeans is difficult enough, and not every pair is going to make your butt look great. High heels are a temporary fix and can be painful or difficult to walk in. If you're a thin person, squats and lunges can add some bulk to your glutes, but you have to stay committed to maintain the results. Wouldn't it be great if you could get the butt you have always wanted without all the smoke and mirrors? The Brazilian Butt Lift procedure or buttock implants are simple ways for you to ditch the illusions for more permanent results. Dr. Agullo can help you determine the butt augmentation procedure that is right for you during a consultation at his practice in El Paso.
Brazilian Butt Lift (BBL)
The Brazilian Butt Lift has become a very popular procedure because it uses the patient's own fat to augment the buttocks. Fat is taken from another area of the body, such as the thighs, abdomen, or hips, and is grafted into the butt to achieve a fuller, rounder shape. Liposuction is performed above the buttocks during this procedure to improve the overall body appearance.
Buttock Augmentation With Implants
If the patient does not have enough fat in other areas of the body, butt augmentation with implants is an alternative. The incision that is made will be hidden in the crease of the buttocks, and the implants will be inserted within the gluteal muscles. The implants are made of a solid silicone gel, which will not rupture or leak the way breast implants can.
For patients with sagging skin or tissue in the buttocks, a buttock lift will be needed in addition to either buttock implants or the BBL.
If you are interested in butt augmentation in the El Paso or Las Cruces area, please contact Dr. Agullo at (915) 590-7900 or fill out our online contact form today to schedule a consultation. We look forward to hearing from you!