When people use the term "Gummy Bear breast implants" they are typically referring to the highly cohesive, form-stable, silicone gel breast implants that are manufactured by both Allergan and Sientra. These thicker implants get their nickname because, like the gummy bear candy, they will not leak when cut or punctured. Sientra makes these highly cohesive implants in both round and teardrop shape, but the round versions are a bit less form-stable than the teardrop shaped implants, which were approved by the FDA in March of 2012. The newest anatomically shaped implants supplied by Allergan, the Natrelle® 410, were FDA approved in February 2013 and are the most form-stable implants on the market today. The last cohesive implants introduced this year are the Mentor® MemoryShape™ implants, which are also shaped, but come in more limited profiles and heights. Frank Agullo offers all three types of implants for breast augmentation in El Paso and Las Cruces at Southwest Plastic Surgery.
Why Gummy Bear Implants Are So Popular
1. A Natural Look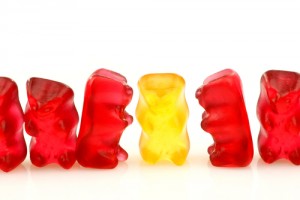 Traditional breast implants are round, and in many women, they provide more defined cleavage because the top of the implant protrudes higher up on the breast. Some women prefer this look, while others prefer the more natural look of the gummy bear implants. The gummy bears are full toward the bottom of the breast and taper toward the top of the breast, creating an anatomical appearance. Their shape and thicker structure makes them less likely than round implants to wrinkle or fold.
2. Lower rupture rate
Another advantage of the gummy bear implants is the high amount of cross-linking in the silicone gel. Since there is more crosslinking present, the implant is more solid, which results in a lower rupture rate. Clinical studies have shown that, while rupture or breakage is still possible, it is much less likely to occur with gummy bear implants than with traditional round implants. Those considering the gummy bears should note that although they are more solid than other implants, these implants still feel like a natural breast.
Although gummy bear implants have many wonderful qualities, they may not be the right choice for everyone. It is important to consult with a highly experienced board-certified plastic surgeon like Dr. Frank Agullo to fully understand your options and discuss all the benefits and risks associated with these devices.
If you would like more information regarding breast augmentation in the El Paso or Las Cruces areas, please contact Dr. Agullo by calling (915) 590-7900. For your convenience, you may also fill out our online contact form to schedule your consultation.